Original paper
Fragrance Gathering by Euglossa Males in Flowers of Ternstroemia dentata (Theaceae) (Hymenoptera: Apidae: Euglossinae)
[Duft-Sammeln an den Blüten von Ternstroemia dentata (Theaceae) durch Männchen von Euglossa-Species (Hymenoptera: Apidae: Euglossinae)]
Melo, Gabriel Augusto Rodriguez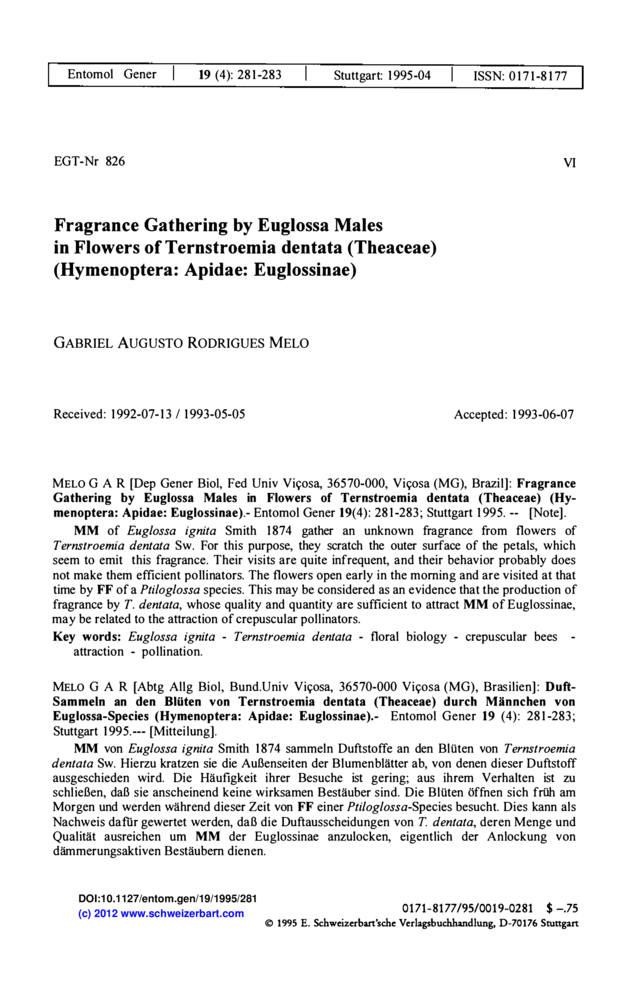 Abstract
MM of Euglossa ignita Smith 1874 gather an unknown fragrance from flowers of Ternstroemia dentata Sw. For this purpose, they scratch the outer surface of the petals, which seem to emit this fragrance. Their visits are quite infrequent, and their behavior probably does not make them efficient pollinators. The flowers open early in the morning and are visited at that time by FF of a Ptiloglossa species. This may be considered as an evidence that the production of fragrance by T. dentata, whose quality and quantity are sufficient to attract MM of Euglossinae, may be related to the attraction of crepuscular pollinators.
Kurzfassung
MM von Euglossa ignita Smith 1874 sammeln Duftstoffe an den Blüten von Ternstroemia dentata Sw. Hierzu kratzen sie die Außenseiten der Blumenblätter ab, von denen dieser Duftstoff ausgeschieden wird. Die Häufigkeit ihrer Besuche ist gering; aus ihrem Verhalten ist zu schließen, daß sie anscheinend keine wirksamen Bestäuber sind. Die Blüten öffnen sich früh am Morgen und werden während dieser Zeit von FF einer Ptiloglossa-Species besucht. Dies kann als Nachweis dafür gewertet werden, daß die Duftausscheidungen von T. dentata, deren Menge und Qualität ausreichen um MM der Euglossinae anzulocken, eigentlich der Anlockung von dämmerungsaktiven Bestäubern dienen.
Keywords
Euglossa ignita • Ternstroemia dentata • floral biology • crepuscular bees • attraction • pollination.