Original paper
Mineralization and Structure of Mineral Deposits in the Hermosa, Chloride, and Phillipsburg Areas, New Mexico
Maxwell, C. H.; Heyl, A. V.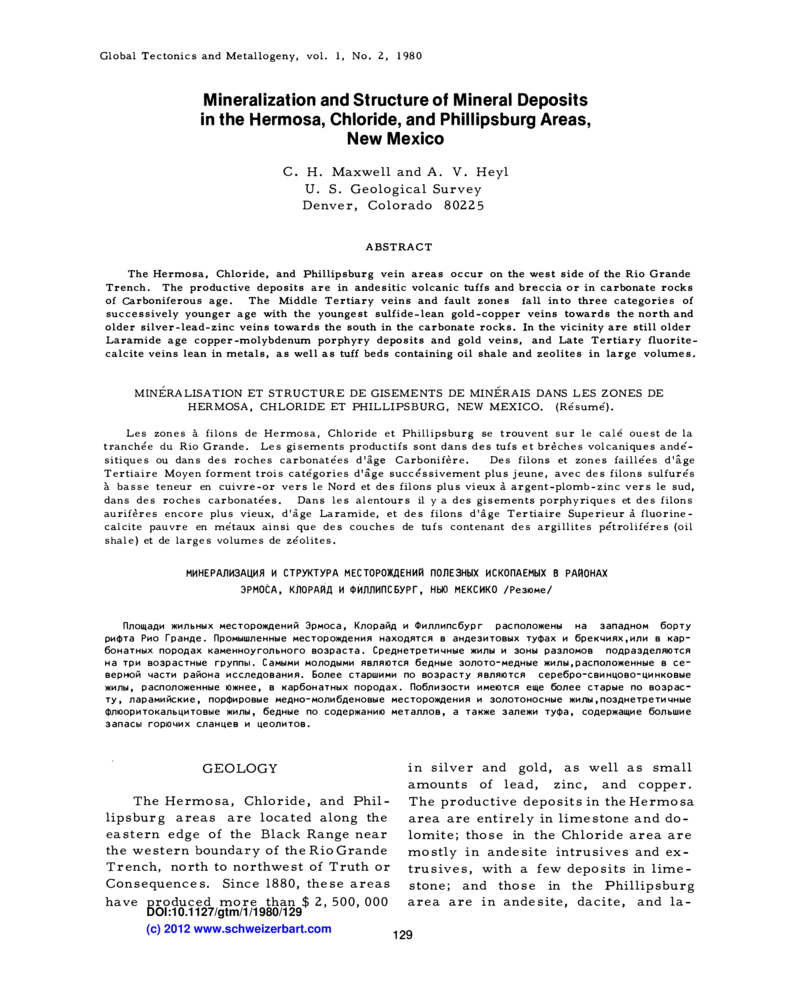 Abstract
The Hermosa, Chloride, and Phillipsburg vein areas occur on the west side of the Rio Grande Trench. The productive deposits are in andesitic volcanic tuffs and breccia or in carbonate rocks of Carboniferous age. The Middle Tertiary veins and fault zones fall in to three categories of successively younger age with the youngest sulfide-lean gold-copper veins towards the north and older silver-lead-zinc veins towards the south in the carbonate rocks. In the vicinity are still older Laramide age copper-molybdenum porphyry deposits and gold veins, and Late Tertiary fluoritecalcite veins lean in metals, as well as tuff beds containing oil shale and zeolites in large volumes.
Résumé
Les zones à filons de Hermosa, Chloride et Phillipsburg se trouvent sur le calé ouest de la tranchée du Rio Grande. Les gisements productifs sont dans des tufs et brèches volcaniques andèsitiques ou dans des roches carbonatées d'age Carbonifère. Des filons et zones faillées d'age Tertiaire Moyen forment trois catégories d'age succéssivement plus jeune, avec des filons sulfurés à basse teneur en cuivre-or vers le Nord et des filons plus vieux à argent-plomb-zinc vers le sud, dans des roches carbonatées. Dans les alentours il y a des gisements porphyriques et des filons aurifères encore plus vieux, d'age Laramide, et de s filons d'age Tertiaire Superieur à fluorinecalcite pauvre en métaux ainsi que des couches de tufs contenant des argillites pétroliféres (oil shale) et de larges volumes de zéolites.
Keywords
mineralization • mineral deposits • chloride • rio grande • united states