Original paper
Planktonic foraminifera across the Campanian/Maastrichtian boundary at Tercis, south-west France
Simmons, Michael D.; Williams, Colin L.; Hancock, Jake M.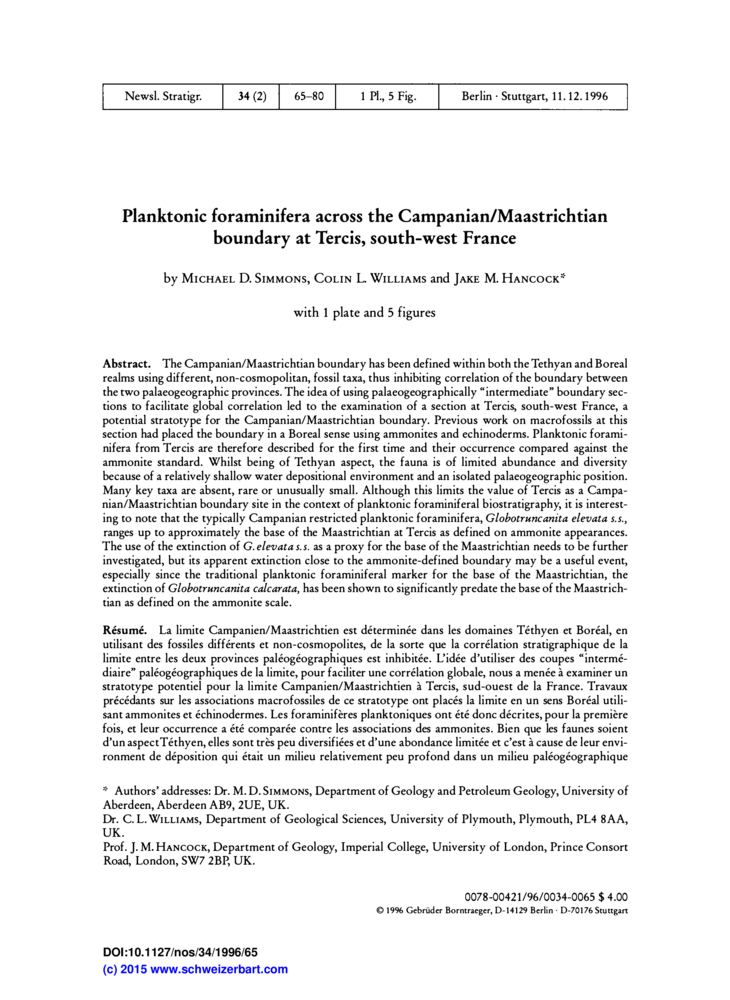 Abstract
The Campanian/Maastrichtian boundary has been defined within both the Tethyan and Boreal realms using different, non-cosmopolitan, fossil taxa, thus inhibiting correlation of the boundary between the two palaeogeographic provinces. The idea of using palaeogeographically "intermediate" boundary sections to facilitate global correlation led to the examination of a section at Tercis, south-west France, a potential stratotype for the Campanian/Maastrichtian boundary. Previous work on macrofossils at this section had placed the boundary in a Boreal sense using ammonites and echinoderms. Planktonic foraminifera from Tercis are therefore described for the first time and their occurrence compared against the ammonite standard. Whilst being of Tethyan aspect, the fauna is of limited abundance and diversity because of a relatively shallow water depositional environment and an isolated palaeogeographic position. Many key taxa are absent, rare or unusually small. Although this limits the value of Tercis as a Campanian/Maastrichtian boundary site in the context of planktonic foraminiferal biostratigraphy, it is interesting to note that the typically Campanian restricted planktonic foraminifera, Globotruncanita elevata s. s., ranges up to approximately the base of the Maastrichtian at Tercis as defined on ammonite appearances. The use of the extinction of G. elevata s. s. as a proxy for the base of the Maastrichtian needs to be further investigated, but its apparent extinction close to the ammonite-defined boundary may be a useful event, especially since the traditional planktonic foraminiferal marker for the base of the Maastrichtian, the extinction of Globotruncanita calcarata, has been shown to significantly predate the base of the Maastrichtian as defined on the ammonite scale.
Résumé
La limite Campanien/Maastrichtien est déterminée dans les domaines Téthyen et Boréal, en utilisant des fossiles différents et non-cosmopolites, de la sorte que la corrélation stratigraphique de la limite entre les deux provinces paléogéographiques est inhibitée. L'idée d'utiliser des coupes "intermédiaire" paléogéographiques de la limite, pour faciliter une corrélation globale, nous a menée à examiner un stratotype potentiel pour la limite Campanien/Maastrichtien à Tercis, sud-ouest de la France. Travaux précédants sur les associations macrofossiles de ce stratotype ont placés la limite en un sens Boréal utilisant ammonites et échinodermes. Les foraminifères planktoniques ont été donc décrites, pour la première fois, et leur occurrence a été comparée contre les associations des ammonites. Bien que les faunes soient d'un aspect Téthyen, elles sont très peu diversifiées et d'une abondance limitée et c'est à cause de leur environment de déposition qui était un milieu relativement peu profond dans un milieu paléogéographique isolé. Plusieurs taxa essentiels ont été absents, rares ou petits. Bien que celà a limié la valeur stratigraphique de coupes concernant les foraminifères planktoniques, c'est intéréssant de noter que l'éspèce typique et restreinte du Campanien Globotruncanita elevata s. s. range à Tercis jusqu'á environ la base du Maastrichtien. Ce dernier est déterminé par des apparitions des ammonites. L'utilisation de l'extinction de G. elevata s. s. pour définir approximativement la base du Maastrichtien doit être de nouveau examinée, mais sa disparition évidente près de la limite déterminée par les ammonites peut être considérée comme un événement utile, surtout que l'extinction de l'éspèce foraminifère planktonique Globotruncanita calcarata le marqueur traditionnel de la base du Maastrichtien, est connue de précedér d'une façon significative la base du Maastrichtien comme c'est défini par les ammonites.
Keywords
fossil • palaeogeographical • Campanian • Maastrichtian • fossiles • paléogéographique • Campanien • Maastrichtien • Globotruncanita calcarata