Original paper
Studium über die Taxonomie, Chorologie und Zönologie der Art Centaurea atropurpurea W. et K.
[Taxonomy and chorology of Centaurea atropurpurea W. et K.]
Pop, Ioan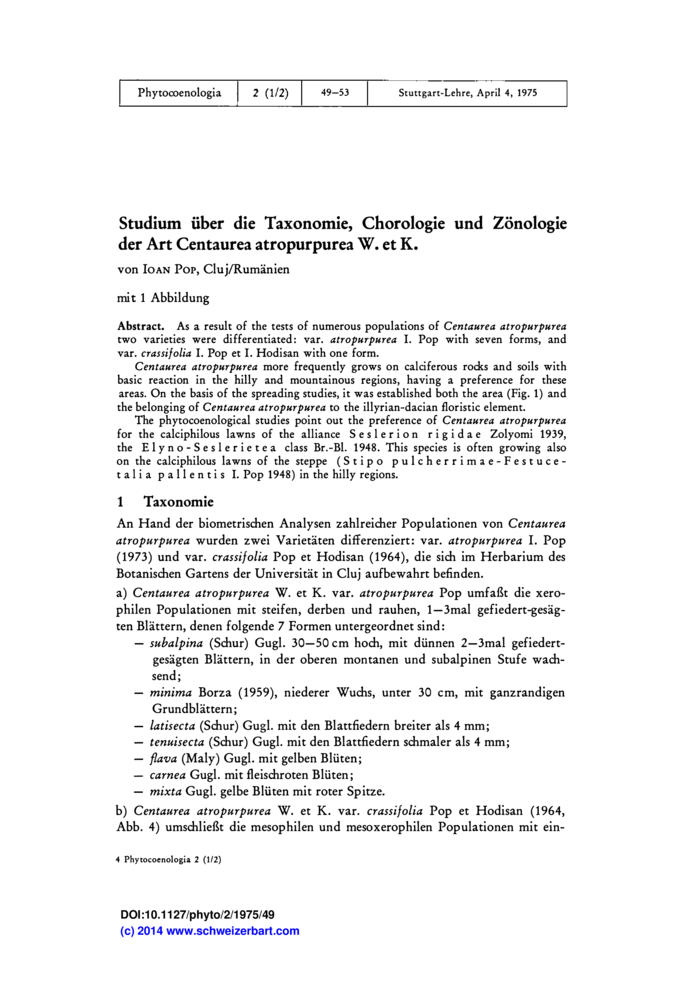 Abstract
As a result of the tests of numerous populations of Centaurea atropurpurea two varieties were differentiated: var. atropurpurea I. Pop with seven forms, and var. crassifolia I. Pop et I. Hodisan with one form. Centaurea atropurpurea more frequently grows on calciferous rocks and soils with basic reaction in the hilly and mountainous regions, having a preference for these areas. On the basis of the spreading studies, it was established both the area and the belonging of Centaurea atropurpurea to the illyrian-dacian floristic element. The phytocoenological studies point out the preference of Centaurea atropurpurea for the calciphilous lawns of the alliance Seslerion rigidae Zolyomi 1939, the Elyno-Seslerietea class Br.-Bl. 1948. This species is often growing also on the calciphilous lawns of the steppe (Stipo pulcherrimea-Festucetalia pallentis I. Pop 1948) in the hilly regions.
Keywords
Centaurea atropurpurea • calciferous rocks and soils • illyrian-dacian • steppe • hilly and mountainous regions • phytocoenological