Original paper
Microfabrics, grain-size-distributions and grain surface textures in Late Pleistocene basin sediments of Brandenburg (Northern Barnim)
Schirrmeister, Lutz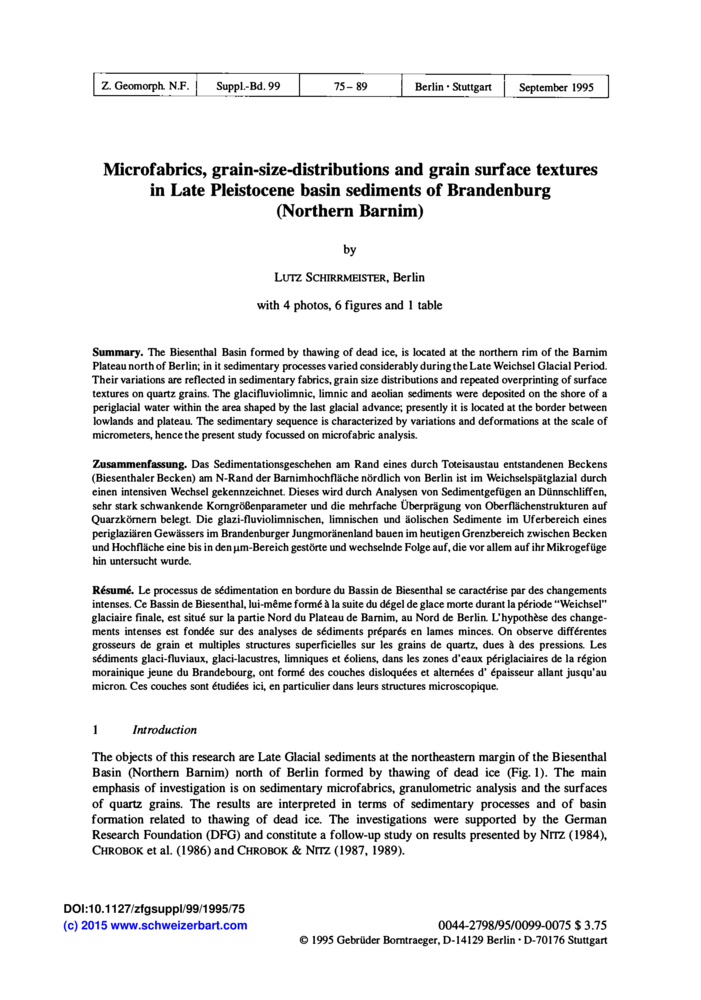 Abstract
The Biesenthal Basin formed by thawing of dead ice, is located at the northern rim of the Barnim Plateau north of Berlin; in it sedimentary processes varied considerably during the Late Weichsel Glacial Period. Their variations are reflected in sedimentary fabrics, grain size distributions and repeated overprinting of surface textures on quartz grains. The glacifluviolimnic, Iimnic and aeolian sediments were deposited on the shore of a periglacial water within the area shaped by the last glacial advance; presently it is located at the border between lowlands and plateau. The sedimentary sequence is characterized by variations and deformations at the scale of micrometers, hence the present study focussed on microfabric analysis.
Kurzfassung
Das Sedimentationsgeschehen am Rand eines durch Toteisaustau entstandenen Beckens (Biesenthaler Becken) am N-Rand der Barnimhochfläche nördlich von Berlin ist im Weichselspätglazial durch einen intensiven Wechsel gekennzeichnet. Dieses wird durch Analysen von Sedimentgefügen an Dünnschliffen, sehr stark schwankende Korngrößenparameter und die mehrfache Überprägung von Oberflächenstrukturen auf Quarzkörnern belegt. Die glazi-fluviolimnischen, limnischen und äolischen Sedimente im Uferbereich eines periglaziären Gewässers im Brandenburger Jungmoränenland bauen im heutigen Grenzbereich zwischen Becken und Hochfläche eine bis in den Mü-Bereich gestörte und wechselnde Folge auf, die vor allem auf ihr Mikrogefüge hin untersucht wurde.
Résumé
Le processus de sédimentation en bordure du Bassin de Biesenthal se caractérise par des changements intenses. Ce Bassin de Biesenthal, lui-même formé à la suite du dégel de glace morte durant la période "Weichsel" glaciaire finale, est situé sur la partie Nord du Plateau de Barnim, au Nord de Berlin. L'hypothèse des changements intenses est fondée sur des analyses de sédiments préparés en lames minces. On observe différentes grosseurs de grain et multiples structures superficielles sur les grains de quartz, dues à des pressions. Les sédiments glaci-fluviaux, glaci-lacustres, limniques et éoliens, dans les zones d'eaux périglaciaires de la région morainique jeune du Brandebourg, ont formé des couches disloquées et alternées d'épaisseur allant jusqu'au micron. Ces couches sont étudiées ici, en particulier dans leurs structures microscopique.
Keywords
Biesenthal Basin • Late Pleistocene • sediments • Brandenburg • Barnim • Biesenthaler Becken • Sedimentation • Weichselspätglazial • Bassin de Biesenthal • période "Weichsel" glaciaire finale • sédiments Berlin