Original paper
Composition and Origin of the Sedimentary Rocks in the Nicoya Ophiolite Complex (Jurassic - Lower Tertiary, Southern Central America) - a Survey
Gursky, Hans-Jürgen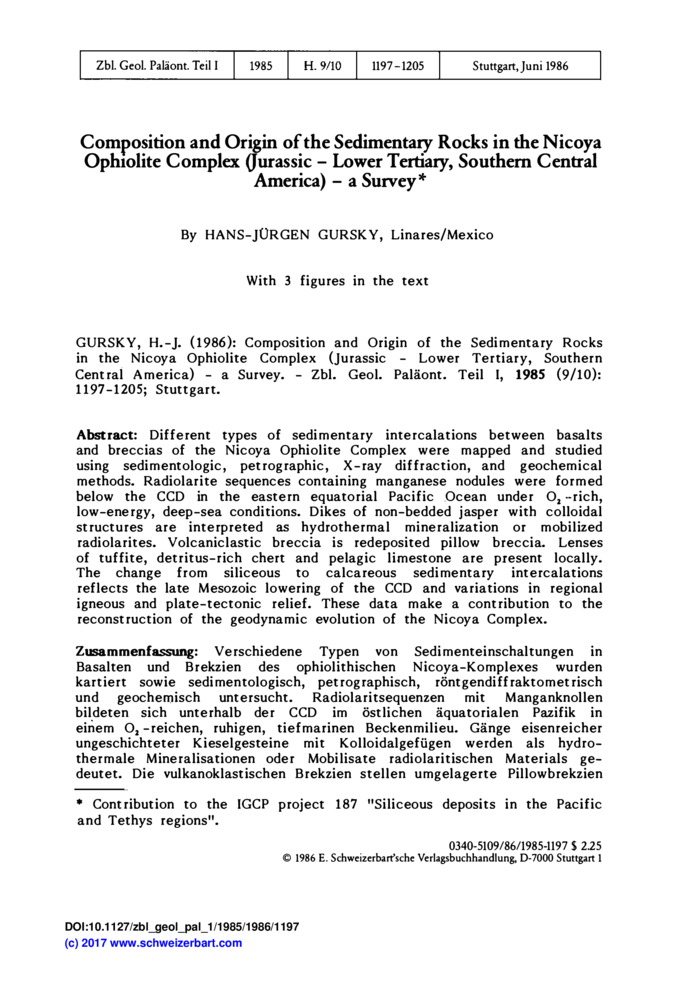 Abstract
Different types of sedimentary intercalations between basalts and breccias of the Nicoya Ophiolite Complex were mapped and studied using sedimentologic, petrographic, X-ray diffraction, and geochemical methods. Radiolarite sequences containing manganese nodules were formed below the CCD in the eastern equatorial Pacific Ocean under O2-rich, low-energy, deep-sea conditions. Dikes of non-bedded jasper with colloidal structures are interpreted as hydrothermal mineralization or mobilized radiolarites. Volcaniclastic breccia is redeposited pillow breccia. Lenses of tuffite, detritus-rich chert and pelagic limestone are present locally. The change from siliceous to calcareous sedimentary intercalations reflects the late Mesozoic lowering of the CCD and variations in regional igneous and plate-tectonic relief. These data make a contribution to the reconstruction of the geodynamic evolution of the Nicoya Complex.
Kurzfassung
Verschiedene Typen von Sedimenteinschaltungen in Basalten und Brekzien des ophiolithischen Nicoya-Komplexes wurden kartiert sowie sedimentologisch, petrographisch, röntgendiffraktometrisch und geochemisch untersucht. Radiolaritsequenzen mit Manganknollen bildeten sich unterhalb der CCD im östlichen äquatorialen Pazifik in einem O2--reichen, ruhigen, tiefmarinen Beckenmilieu. Gänge eisenreicher ungeschichteter Kieselgesteine mit Kolloidalgefügen werden als hydrothermale Mineralisationen oder Mobilisate radiolaritischen Materials gedeutet. Die vulkanoklastischen Brekzien stellen umgelagerte Pillowbrekzien dar. Lokal kommen Linsen von Glaspartikel-führenden Tuffiten, Detritusreichen Kieselgesteinen und pelagischen Kalksteinen vor. Der Fazieswechsel von kieseligen zu karbonatischen Sedimenteinschaltungen reflektiert die spätmesozoische CCD-Absenkung sowie regionale magmatische und plattentektonische Reliefänderungen. Die geodynamische Entwicklung des Nicoya-Komplexes läßt sich präzisieren.
Abstract
Diferentes tipos de intercalaciones sedimentarias presentes en los basaltos y brechas del Complejo Ofiolítico de Nicoya, fueron cartografiados e investigados por métodos sedimentológicos, petrográficos, difractométricos de rayos X y geoquímicos. Secuencias de radiolaritas con nódulos de manganeso se depositaron abajo de la profundidad de compensación de calcita (CCD) en el Pacifico ecuatorial oriental, en un ambiente de mar profundo rico en O2 y de energía baja. Diques de jaspe macizo con estructuras coloidales se interpretan como mineralización hidrotermal o material radiolarítico removilizado. Las brechas volcanoclásticas representan brechas redepositadas de almohadillas. Lentes de tufitas, rocas siliceas ricas en material detrítico así como calizas pelágicas, afloran localmente. En el cambio de intercalaciones sedimentarias silíceas a calcáreas, se reflejan el hundimiento de la CCD en el Mesozoico tardío y variaciones del relieve regional causadas por tectónica de placas y magmatismo. El desarrollo geodinámico del Complejo de Nicoya se puede precisar.
Keywords
sedimentary rocks • Nicoya Ophiolite Complex • Jurassic • Lower Tertiary • Central America • Pacific Ocean